It Seems Only Ontario Hydro Employee's Wages are Keeping Pace With Skyrocketing Electricity Rates
Have your wages gone up 65% in the past 8 years? The price of electricity in Ontario has. Incredibly, despite these massive historical increases, power rates are projected to rise by and additional 40 per cent over the next four years. This means we will be paying more than twice what is paid in neighbouring provinces and states. One of the reasons we pay so much is to fund the bloated salaries of the people in charge of hydro in Ontario.

With the latest increase on May 1, 2014 the price of off-peak power was increased to 7.5 cents/kWh. Mid-peak power was raised to 11.2 cents/kWh and on-peak power increased to 13.5 cents/kWh.
Here are all the new hydro rates.
Ontario hydro users have a choice when it comes to buying electricity. If you are a residential hydro consumer you have two options for purchasing hydro in Ontario:
1. Purchase Electricity from your Local Hydro Utility
If you decide to buy your hydro from your local Ontario hydro utility, the electricity rate that you pay is set by the government of Ontario (the RPP rate). This price generally changes every 6-months, on May 1 and November 1. Since 2009, utilities across Ontario replaced meters used by residential customers to introduce Time-of-Use meters, so called, "Smart Meters". The utility companies use a different pricing formula for customers with time-of-use meters, since these meters can not only report on how much electricity you use but also when you use it. 80% of Ontario's Hydro users are now billed based on time-of-use.
Here are the Ontario Hydro Rates in effect since

May 1, 2014

and continuing until

Oct 31, 2014

.
2. Purchase Hydro from an Ontario Electricity Retailer
Ontario Electricity Retailers cater to consumers who want long-term electricity price protection. Electricity retailers in Ontario can provide a fixed electricity rate for up to five years. For residential consumers, electricity retailers generally offer one fixed price per kWh, regardless of when the electricity is used and how much hydro is consumed.
When comparing fixed electricity rates offered by energy retailers with the RPP rate charged by your local utility there is one very important difference that you must be aware of known as the Global Adjustment (formerly called Provincial Benefit). All of the extra fees on your hydro bill (such as delivery fees, admin, debt retirement, etc.) will generally be the same regardless of whether you purchase hydro from your local utility or an electricity retailer. The one exception is the Global Adjustment. This will be added to you bill (or theoretically removed from your bill since it can be negative) only if your electricity is supplied by a retailer (since this charge is already embedded in the RPP rate). Lately the Global Adjustment has been about 5 cents/kWh so it makes a big difference and must be considered when comparing rates.
Here are links to the main electricity retailers currently providing hydro to Ontario residents showing hydro rates in effect on May 9, 2013 (not including the Global Adjustment). Be very cautious when dealing with companies that don't publish their rates on their website and never sign a contract without obtaining and comparing rates.
Energy Retailer
5-Year Fixed Price
Notes
Bullfrog Power
Retail Price
+ 3 cents/kWh
Separate bill for 2.5 cents/kWh for "greening" your energy. Global Adjustment won't apply if you are still an RPP customer.
Canada Energy Wholesalers
5.2 cents/kWh
You pay their wholesale cost plus 1 cents/kWh with a price cap of 5.2 cents/kWh over the 5 years
Direct Energy
5.99 cents/kWh
They only seem to offer 2 year contracts
Just Energy
(Formed by merger of OESC
and Universal Energy)
.1 cent less than mid-peak price
Rate Capped at 5.99 cents/kWh
MyRate Energy
5.25 cents/kWh
Contract allows for extra "Pool Balancing" fees
Summitt Energy
$39/month for electricity portion
Superior Energy
No Price Provided
on Website
In most cases, you should expect your hydro bill to increase after switching to an electricity retailer since your price is protected for up to 5 years (see chart below).
Something else to consider is "when do you use most of your electricity?" Energy retailers are now required to show a Price Comparison Sheet to compare their contract price with the RPP price. These government mandated price comparisons tend to be bias toward the government's own rates for two main reasons:
They compare long term retailer rates (guaranteed for 5 years, say) with the RPP rate that is only guaranteed for a few months. This is an apples to oranges comparison like comparing the rate of a 6-month mortgage to that of a 5-year mortgage.
The rate comparisons assume that only 36% of your energy is consumed between 7:00 AM and 7:00 PM weekdays. For many households, their Monday-Friday daytime use could be 50% of their total usage or even higher so their true "blended" RPP rate will be much higher than the comparisons imply. If you are already being billed in an interval meter, you should use your real consumption in the comparison calculation. Help us determine the average rate for Ontario consumers by participating in our Ontario Hydro Consumption Study.
When you buy electricity from a retailer, the electricity is still delivered by your local hydro utility and your hydro availability is guaranteed by your local utility. Your Ontario hydro utility will also continue to bill you for your hydro. All that really changes is the line on your bill that deals with the electricity commodity as well as the Global Adjustment described above.
5-Year Fixed vs. 6-Month RPP Rates
The decision on whether to lock in your rate depends on your risk tolerance and how much you feel rates are likely to increase in the future.
As you can see from the following sample hydro rate chart, when you lock in your hydro rate, you tend to pay a little more during the first year or two of your contract, but in the later years of your contract you tend to pay less than the variable rate.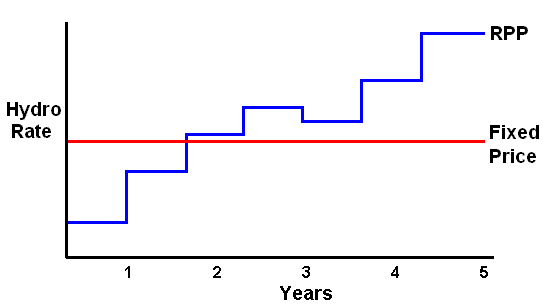 In general, if you think that electricity rates will increase substantially in the future, then it is a good idea to lock in your rate now. For example, the Ontario government pays a huge premium to suppliers of renewable energy. As part of Ontario's Green Energy Act, producers of solar energy receive a guaranteed rate of 80.2 cents/kWh for the electricity they produce. Most observers believe that substantial increases in the RPP rate will be needed to cover the guaranteed rates that are offered to producers of green energy including wind, solar and biomass. Locking into a fixed rate could help you avoid such increases.
Constant vs. Fluctuating Rates
Another factor to consider is when you use most of your electricity. The highest (on peak) rate of 13.5 cents/kWh is from 7:00 AM to 11:00 AM in the morning and from 5:00 PM to 7:00 PM in the evening during the winter months. In the summer, the on peak rate is from 11:00 AM to 5:00 PM weekdays (see RPP Time-of-Use Rates). If your household is busy during these times, and you stay with the RPP, you will be using a lot of power at the peak rates. By switching to a fixed-rate plan, you are not penalized when using power during peak-demand periods. The chart below shows how your Smart Meter allows your utility to charge a different rate at different times of the day.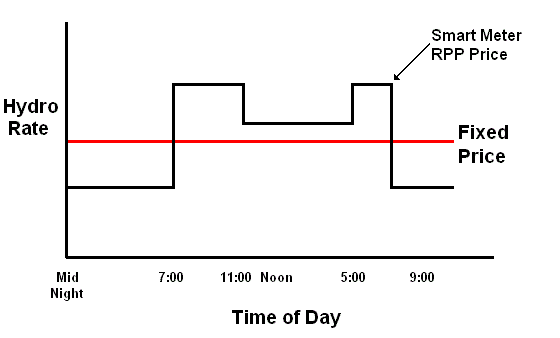 Ontario Hydro News
Ontario Hydro Rates Increased on Nov 1, 2013
The price of off-peak power will rise by 7.5% representing an annualized increase of 15%. Off peak rates are not the deal they once were since they are rising fast than on peak power which increased by 4% (8% annualized). This round of increases will add about $4 to the average monthly hydro bill.
Guess Who Will Be Paying for Hydro Pension Shortfall?
July 9, 2013 Parker Gallant - Financial Post
Two of Ontario's hydro companies are on the Canadian bond rating agency, DBRS' top 20 list of worst funded pension plans. Ontario Power Generation (OPG) is cited as having the worst deficit of $3.3-billion and stated that the corporation has fallen into the 'danger zone'. Hydro One Inc. is indicated as having a pension shortfall of $1.5-billion and is 8th on the list of worst deficits. This deficit works out to a staggering sum of $288,000 per employee. Ontario ratepayers can expect that these shortfalls to fall on their shoulders as these pension liabilities require funding.
Power Rates Increase May 1st - More To Come
April 8, 2013 Craig Huckerby - local2 Sault Ste. Marie
With the latest increases the Ontario government will be netting about $44 million a month more from ratepayers in the province. According to this article the increase in power rates won't stop there however, the Ontario Auditor General reported last year that Ontario power rates will increase a whopping 45 percent by 2015.
Ontario is Hiding the Gas Fiasco
Sept 26, 2012 Parker Gallant, The Financial Post
In this article, Ontario Hides the Cost of Relocating Electricity Plant, the author talks about the Ontario Government's attempt to cover up the true cost of their decision to scrap the planned Gas-fired electricity plant in Oakville. The author claims that "major additional costs to Trans­Canada and others are likely buried in documents that may never see daylight." He goes on to say that these cost, in the billions of dollars, will ultimately end up on your hydro bill.
Hydro Bills Increase Average of $5.80/Month
April 20, 2012 - by Lee Greenberg, The Ottawa Citizen
The outrageous increases result in a 12.5-per-cent hike for time-of-use billing customers, according to energy analyst Tom Adams. Adams blames the new rates on an array of heavy spending in the sector by the Liberal government. In 2010, the government predicted hydro bills would rise 46 per cent by 2015. Half that rise is attributable to the expensive long-term contracts. According to Adams, we are already tracking way higher than those numbers, we are seeing double-digit increases rather than the 7.9 per cent per year predicted by the McGuinty government.
Ontario Electricity Rates Could Rise 65 per cent by 2015
Oct 25, 2011 - by Toby Barrett, Queen's Park
According to energy analyst Parker Gallant, and University of Guelph's Glenn Fox, the Ontario government's wind and solar energy policies will cost about 40 per cent more than their own estimates. After originally predicting rates would only rise by one per cent, the government admitted a few months ago to increases of 46 per cent and 100 per cent!
Ontario to invest $80 Million in Electric Charging Stations
Aug 9, 2011 - CVT News Ottawa
Dalton McGuinty announced that the Ontario government will be investing $80 Million to develop electric vehicle charging stations throughout Ontario. Mr. McGuinty noted that the estimated $7 to "fill up" with electricity is a far cry from the $70 most people spend on a gasoline fill up. The government will also be subsidising the purchase of electric cars to the tune of $8,000 per vehicle with a goal of having 5% of all vehicle run on electricity by 2020.
Ontario to pay for power not delivered to the grid
June 10, 2011 - Financial Post
One of the unforseen consequences of the Ontario Government's plan to add solar and wind capacity to the Grid at guaranteed rates is that sometimes the power generated is not needed and results in temporary overcapacity problems. When this happens, not only does the Ontario government have to pay extremely high rates for the wind and solar power (up to 81 cent/kWh for Ontario's Solar MicroFIT program), they may also have to pay to offload the power to other jurisdictions such as Michigan. To help combat this problem, the Ontario Goverment is requesting large Wind producers to forecast wind production and remove production during periods of over supply. The Ontario Power Authority will continue to pay the contractual rate for the power not produced. Of course, these charges will be offloaded to Ontario consumers in the form of rate increases.
Conservatives Vow to End the Liberal's MicroFIT program
May 11, 2011
If elected, the Ontario Conservative party leader has vowed to put an end to the McGuinty government's MicroFIT program which pays up to 80 cents/KwH in Feed in Tarrifs to small roof-top solar power producers.
Toronto Hydro requests rate hike of 18%
September 2, 2010 - Toronto Star
Toronto Hydro is seeking a hefty 18 per cent rate increase on its portion of residential electricity rates. If approved, this would add nearly #0036;5 a month to the average hydro bill.

"It's a big number," said Bruce Sharp of Aegent Energy Advisors, and one that is unlikely to be reduced in future years.
Manufacturers say hydro rates will soar for five years
September 1, 2010 - Toronto Star
Consumers can expect to see their power bills grow by 6.7 to 8 per cent annually for the next five years according to a report by Aegent Energy Advisors. The estimate that a household with a monthly bill of $130 today will be paying about $191 by 2015.

Consumers who don't have retail contracts have seen their rates rise, whether they're on time of use rates or the two-tiered regulated price plan.
Green Energy Initiatives to Cost Billions
June 5, 2010 - macleans.ca
According to Macleans, Ontario's rush to pour billions of dollars into green energy is fraught with risk and could leave consumers on the hook. By some calculations, the average residential power bill is set to climb as much as 25 per cent, or $330, annually over the next few years and, once new green energy projects come online, prices could rise even further. Why is Ontario willing to pay so much to go green? For starters, Premier Dalton McGuinty has pledged to eliminate dirty coal-fired power plants by 2014 and alternative energy sources are needed to fill the gap. Coal-fired plants now produce about 15 per cent of the province's electricity. The rest comes from nuclear (40 per cent), natural gas (25 per cent) and hydro (18 per cent). At the same time, the government is hoping that its requirement for "made in Ontario" technologies will help make the province North America's leader in green jobs and manufacturing.
Savings aren't worth inconvenience in time-of-use billing
December 15, 2009 - Kingston Whig Standard
Ernie Dewing was reviewing Hydro One's time-of-use prices. Under 2010 time-of-use billing, customers will be charged higher rates for electricity during peak use periods, mainly daytime on weekdays.

Does Hydro One think I am going to postpone my dinner to save two or three cents? Does it think I am going to do the vacuuming in the middle of the night to save, perhaps, three or four cents? And how much am I paying to get a smart meter so that I can, if I want, take advantage of these savings?
Editorial on Tax Increases in Ontario
December 11, 2009 - Brantford Expositor
It would seem that despite the growing opposition to the HST, and the simple reality that the recession has not ended for the majority of Ontarians, Dalton McGuinty will once again raise taxes on the the people of Ontario. We have already seen one of the largest tax increases in Canadian history, in the form of the health care premium.

This measure has taken thousands from the average Ontario household and is now followed by the new Smart electricity meters being installed. These will drive up electricity costs, further increasing the financial burden on already struggling families.
TransCanada CEO Expects Electricity Prices to Quadruple
September, 18, 2009 - Financial Post
Hal Kvisle, chief executive of TransCanada Corp. (a major power generating company), said electricity prices will quadruple as countries toughen their stance on greenhouse gas emissions, and governments need to brace the public for the price spike.

The price jump will come as countries wean themselves off dirty energy sources such as coal-fired power plants and implement expensive projects designed to help stem greenhouse gas emissions, such as carbon capture and storage (CCS).
Hydro Rates Scheduled to Increase May 1, 2009
April 15, 2009 - OEB Website
The Ontario Energy Board announces hydro rate increases of up to 5.5% on interval meter pricing. The price for On-Peak power will increase from 8.8 cents/kWh to 9.1 cents/kWh. Mid-peak hydro rates increase from 7.2 to 7.6 cents/kWh and off-peak rates increase from 4 cents to 4.2 cents/kWh. According to the OEB, the average bill for customers who don't yet have an interval meter will increase by about 4.0% when factoring in both the price increase and the change over to the summer electricity threshold.
Ontario Government Pushing Green Energy Act
February, 16, 2009 - Canadian Press
The Liberal government is preparing to bring in a deficit budget including a Green Energy Act that it hopes will transform the province's ailing economy and create 50,000 new jobs. Premier Dalton McGuinty has warned the province will not tolerate objections to the creation of green energy projects such as wind turbines and solar panel farms as he looks to put idled manufacturing plants back on line to create jobs.
---
Wonder how our visitors find this site? Learn about our Ontario Hydro Search Terms.